16 eCommerce SEO Trends for 2023
The eCommerce landscape is continuously changing, so it's critical for businesses to keep on top of the most recent trends and SEO best practices (SEO). For any firm, especially eCommerce businesses attempting to compete in a saturated market, staying on top of current trends is essential.
SEO forms the basis of all efforts at digital marketing for eCommerce. Naturally, specific SEO strategies that were successful in the past have lost their effectiveness as search engine algorithms have changed to better match user intent and get rid of spammy, useless strategies. Moreover, the fact that SEO trends alter does not automatically render the method obsolete. Since your SEO strategy isn't carved in stone, it's critical to assess current techniques and adjust them as needed to maximize the potential for search engine ranking.
On that note, let's take a look at the top 16 SEO trends in 2023 that will prepare your eCommerce business for the future.
16 eCommerce SEO Trends For 2023
The importance of SEO for an eCommerce business cannot be emphasized enough. SEO practices change with time, and hence you, as an eCommerce owner, should be aware of these changes or SEO trends to stay up-to-date. So here are the eCommerce SEO trends for 2023 that you should be focusing on- 
Page Speed Is Of Utmost Importance.
The importance of page speed is now more than ever. With people's attention span decreasing by the day, your site needs to be prompt. Additionally, your online store will rank higher the faster your page loads. Why? A smooth user experience offered by quick web pages encourages users to spend more time perusing the information on your website. On the other hand, if a web page loads slowly, visitors get irritated and leave, which lowers the average page duration and raises the bounce rate. The ultimate goal is always to have pages that load quickly on all devices—ideally in under two seconds!
Snippet Of Your Product Review Page's Pros And Cons
The likelihood of a product page ranking higher for the target keyword and the potential for faster customer conversion is increased with organized data, such as pros and drawbacks. Therefore, arranging product data as soon as possible is preferable. Include structured data to "inform Google about the benefits and downsides" on your product review pages. When you freely share such information, Google will attempt to discern the pros and disadvantages and present them in snippets. Only editorial pages currently offer lists of advantages and disadvantages.
The Importance Of User Experience (UX) Will Continue To Grow.
The significance of search engine optimization (SEO) and the impact of user experience (UX) on SEO are both expanding, particularly in 2023. The whole user experience of a website, including factors like page speed, layout, and navigation, is increasingly important to Google (google analytics) and other search engines. eCommerce companies can raise their search ranks and boost conversions by concentrating on UX. Let's examine why:
The main benefit of strong UX is increased user engagement. Users are more likely to stay on a website longer, possibly make a purchase, or revisit it in the future if they have a good experience there. Since search engines value user engagement and retention, this may result in higher rankings in search engine results. A good UX can increase conversion rates in addition to increasing user engagement. Users are more likely to take the appropriate activities when they have a good experience on a website (such as making a purchase). This is particularly crucial for e-commerce platforms, where the end objective is to persuade consumers to make a purchase.
Well-structured and simple-to-navigate websites are often easier for search engines to scan and index, which can help them appear more prominently in search results. A strong user experience can also enhance a website's crawl ability or the capacity of search engines to find and index its pages. Finally, it is becoming more crucial for websites to have a strong UX on mobile as many users access the internet from mobile devices. More on this in the next point.
Becoming Mobile-Friendly Is A Must.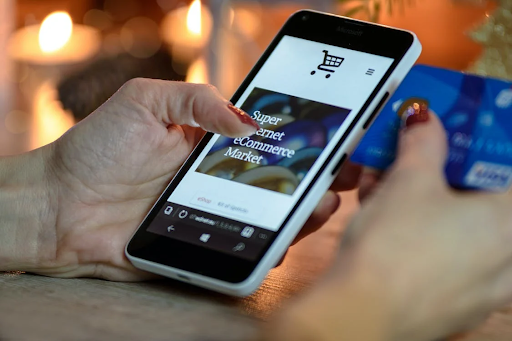 How does your eCommerce website perform in a market driven mainly by mobile users? Shoppers are using their cell phones and tablets more frequently. In actuality, 79% of smartphone users completed an internet transaction over the last six months.
A mobile-friendly website is optimized to work on all platforms, ensuring that users enjoy themselves whether they purchase on a desktop or a mobile device. Online retailers who don't put up a real, purposeful effort to provide an excellent mobile shopping experience risk falling far behind their rivals. As a result, companies must prioritize mobile-friendliness when working on user experience (UX) in their SEO efforts to ensure they're maximizing their exposure in search results and luring and retaining consumers.
Emphasis On High-Quality Content
Your content ought to be original, worthwhile, and presentable. Publishing valuable content that your target audience finds engaging with error-free language and appealing graphics are all examples of quality content.
When developing content, you should consider E-A-T (expertise, authoritativeness, and trustworthiness). This is covered by Google's Search Quality Evaluator Guidelines and the search engine's algorithm. Google uses E-A-T to ensure the results it provides to users are accurate, authentic, and useful. Therefore, evaluating a web page in search results takes into account the competence, authority, and reliability of the individual developer of the content, page content, and the overall website.
Video Content Will Continue To Be A Crucial Part Of eCommerce SEO
Videos effectively draw viewers in, increase sales, and raise your search engine rankings. You may reach a larger audience and stand out in a competitive marketplace by including video in your eCommerce marketing approach. See why video content will remain a crucial component of eCommerce SEO.
User engagement: You can enhance customer engagement with the help of videos. Videos are a very compelling medium that can retain visitors to a website longer and improve the likelihood that they will make a purchase.
Increased conversion rates: Research has found that websites containing video content convert more than those without. This is so that firms may present their goods in a more engaging and eye-catching manner through video.
Increased visibility in search results: Due to search engines' recognition of the usefulness of video in attracting and keeping consumers, websites containing video content frequently rank better in search results.
Social media presence: Since video material can be easily shared, it can help businesses grow their followings and visibility on social media sites.
Articles And Category Pages Rule The eCommerce World.
If retailers want to rank higher in search results, they must diversify their materials. By setting up content centers and topic clusters, you can categorize your website's blog posts on your store based on the preferences of different personality types in your target market. Add information other than the product description. Case studies and other in-depth content can also be used. 
Additionally, eCommerce blogs can tell the story of your product and show how you can use it to achieve your desired results. By paying more attention to the context and structure of their materials and creating categories that help customers find similar products, retailers can provide a better content experience.
Focus On Diversifying Your Marketing Channels
Search engines love seeing organic traffic from various sources, such as email addresses, social media sites, etc., to your online business. Additionally, if you don't use various marketing methods, you won't be able to make the kind of money you want.
The demand for your product or service is increased through marketing across various platforms (those that your target market utilizes), which also helps to increase brand recognition and conversions from the top of the funnel to the bottom.
Diversifying your channels also expands your brand's reach, making it simpler for people to find your goods or services. Exposure through various platforms enables you to reach current and potential clients where they are. After all, people won't just find you through your website.
Brand Awareness
Your brand is essential to your business's success in 2023! The more familiar people are with your brand, the more likely they will choose you over your competitors. Trust is fostered between the brand and its audience. Your ultimate goal should be to familiarize your customers with your brand and make them confident in purchasing your product. You can achieve this with the help of instilling brand awareness and making sure that your brand pops up in google's search results among your targeted audience. 
Schema Usage Is Expected To Grow.
Schema markup helps your business stand out on search engine result pages. Companies, retailers, and publishers increasingly use multiple schema types, such as products, image objects, and item lists, to mark up content related to the shopping experience.
Instead of using a list of categories or items, Google recommends marking individual product websites for inclusion in product-rich search results. By properly tagging information about your products, Google Images can display them and use them in rich search results.
Relevant Meta Titles And Description
Meta titles and meta descriptions are the tags used for marketing, and you should use them to properly express the purpose of your web page. It lets you specify a web page's contents for humans and search engine bots. These aid customers in learning directly and indirectly about your content and business operations.
Simple, concise, and memorable content titles based on extensive keyword research are preferred. To beat the competition and persuade the user to click on your search results, keep in mind that you are competing with other search engine results for the same query. Using this straightforward technique may significantly boost your website's traffic.
Security Of Your eCommerce Website
For the eCommerce sector, cybercrime is a constant problem that costs businesses millions of dollars. Fraudulent transactions and identity theft can damage a client's confidence and, in certain situations, force a company's permanent liquidation. Website security is a requirement regardless of the SEO for eCommerce trends currently in place.
Cybercriminals can be thwarted by getting an SSL certificate, selecting secure payment methods, and utilizing anti-malware software. Credibility and trust are significantly increased when you demonstrate that you've taken all reasonable precautions to protect your company's and customers' data.
Optimizing Google Discover
Google Discover is a feed that compiles relevant data based on a user's search history and displays the results at the top of the search results page. You can compare relevant news articles, videos, and other content streams based on the user's previous searches.
To improve your content on Google Discover, consider providing original and evergreen content, following SEO best practices, using top-notch images, and providing multilingual content. Never stop producing top-notch content that appeals to your audience's needs and interests. This way, we increase the chances of adding your page to Google Discover and sending you relevant organic traffic.
Emphasize Building A Strong Brand In 2023
Branding includes people's tailored experience with your businesses, going beyond visual design and advertising. Building a great online presence is distinct from developing a memorable brand, albeit the latter does some good. Strong brands deliver quality, offer exceptional customer service, and tell compelling stories.
Developing an exciting website, knowing your target demographic, and using a digital marketing strategy involving social media channels can contribute to building a powerful brand. Given the complexity of creating a solid online brand, many eCommerce companies work with digital marketing firms to help them target the correct audience and communicate the right message.
Showcase Product Reviews
In my opinion, the most effective technique to alleviate a customer's doubts about your goods and services is through product reviews. Similar to recommendations, specific product reviews show customers they can trust you while also sending a strong signal to search engines that increase the authority of your online store. Since 90% of consumers read reviews before making purchases, requesting and displaying them is worth the effort.
Optimize For Voice Search
As voice search grows, it's essential to improve your website to attract voice search customers. It's important to remember that voice search optimization differs from traditional SEO. Therefore, you need to update and change your eCommerce SEO strategy for voice search users to attract customers.
How Important Is SEO For eCommerce Websites?
An essential requirement for eCommerce websites is SEO. You need your product to receive more attention and rank higher than your rivals to reach your potential clients appropriately. Your site should be among the top search results when they find the things they need on the search engine results page (or SERP). You can do this by altering your website design to be in coherence with the SEO practices. You can refer to the Shopify website design to get an idea about the same.
The top search engine rankings are a primary objective for each eCommerce website. No matter how big or small your business is, when done effectively, SEO eCommerce tactics can help your website rank highly. Your website pages will offer the finest answers to users' search queries. A continual, free stream of organic traffic to your website with excellent conversion rates directly results from optimizing eCommerce sites.
Let's begin by using an eCommerce website without SEO as an example. Your business website has the most appealing template, and a great user interface for customers to browse your products, including inexpensive and expensive items, but no one is visiting it. Even well-known search engines like Google, Yahoo, and Bing are unaware of your offerings, which may indicate that you are not making sales. That's why you need an eCommerce SEO expert or an eCommerce SEO agency that can help you grow your website's traffic by utilizing various SEO techniques.
Key Takeaways
SEO requires time and effort, just like most great things.
But as you can see from this article, it's not complicated; you must follow a series of stages to generate success and growth over time. But it will all be worthwhile because of the advantages that your overall website design provides. You are in an advantageous position even if your budgets run out. This is because the results and outcomes of your SEO practices continue. This separates eCommerce SEO from other marketing activities like influencer marketing, advertising, etc.
On the other hand, SEO is also not time-consuming if you cover the fundamentals and keep track of all the things that go wrong. This will allow you to spend more time on other tasks that demand your attention while your organic visibility will continue to grow, resulting in click-throughs and conversions.
You just need to invest a little time and develop an effective SEO plan to increase the online shopping experience for your online business because SEO is essential to your eCommerce success. You can even contact a digital marketing agency to get ahead of the crowd. However, you can't accomplish this independently without tools that include all the information you need to perfect your methods and approaches
Continute to next blog